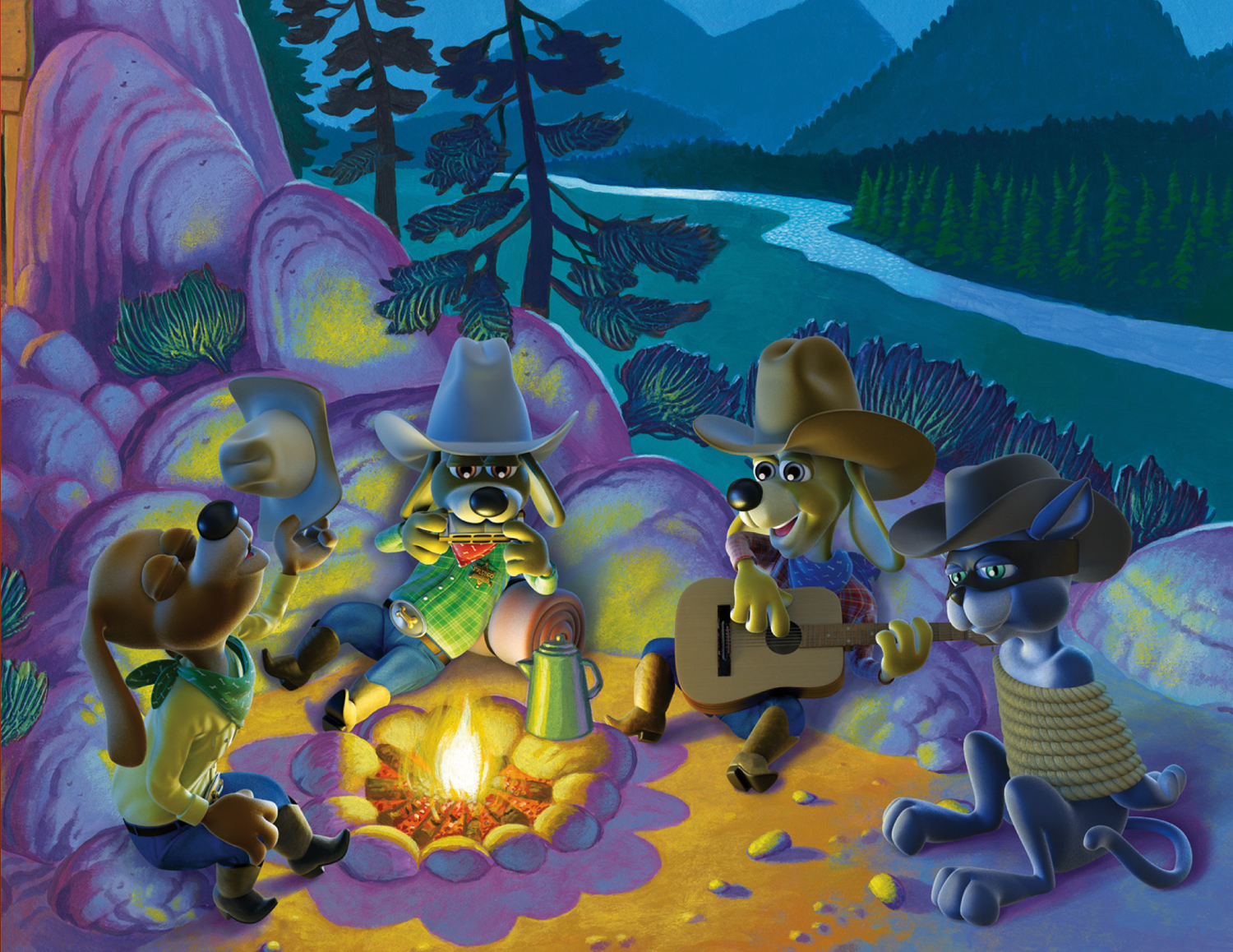 First visit to a
Pediatric Dentist
Congratulations on taking the first steps toward your child's healthy smile! We're here to help create a smile that'll last a lifetime!
Pediatric dentistry is the practice of teaching comprehensive oral health care for children from birth through adolescence. It is our goal to be a partner with parents in establishing a good foundation of healthy habits. Children who have a positive dental experience at a young age are likely to have a favorable outlook toward dental care throughout their lives.
Our goal is to assist parents in beginning good oral habits for their children at a very early age. Prevention is priority!
The importance of visiting the dentist by age 1
The importance of visiting the dentist by age 1 has long been stressed by the American Academy of Pediatric Dentistry (AAPD), which has now released new research producing a predictive model for cavity risk in children. This 3-year study involving over 2,000 infants found that the chances of a child being diagnosed with early childhood caries (tooth decay) more than doubles for each year the initial dental visit is delayed. Mathematically, this means that waiting until age 5 to see your pediatric dentist increases your child's odds of having a cavity at that visit by almost 20 times.
During the study, pediatric healthcare providers expressed the importance of dental care as an integral part of a child's overall health, however, most also indicated that, due to time constraints during well-child visits, a need has arisen for a simple assessment tool to predict cavity risk. The AAPD study provides variables to assist pediatric healthcare professionals in identifying those children who are at higher risk for tooth decay.
Variables used to assess the odds of present or future dental caries include:
Child's age
History of preventive dental care visits
Breastfeeding duration
Broken or no-show appointment rates
Spoken language preference
The newly developed predictive model can help pediatricians easily identify (during a well-child visit) patients who are more likely to have tooth decay without taking time from the other health areas being addressed during the check-up. Not only can the use of caries risk assessment tools be a great advantage in helping maintain good oral health for those who are at-risk, but they can also contribute to overall general health, as dental problems can be an indicator of poor nutrition, as well as lead to various other health concerns.
Advantages of seeing a dentist early
Tooth decay can begin to occur as soon as the first tooth appears (typically around 6 months of age), so practicing good dental hygiene early is important to your child's future oral health. Because primary teeth (or baby teeth) are softer than the permanent teeth, they are more susceptible to cavity-causing bacteria. When one tooth is affected by a cavity, the adjacent teeth are vulnerable to tooth decay as well.
Tooth decay is the most prevalent chronic disease in U.S. children. The Center for Disease Control and Prevention (CDC) has reported that up to 40% of children now experience dental cavities prior to entering kindergarten.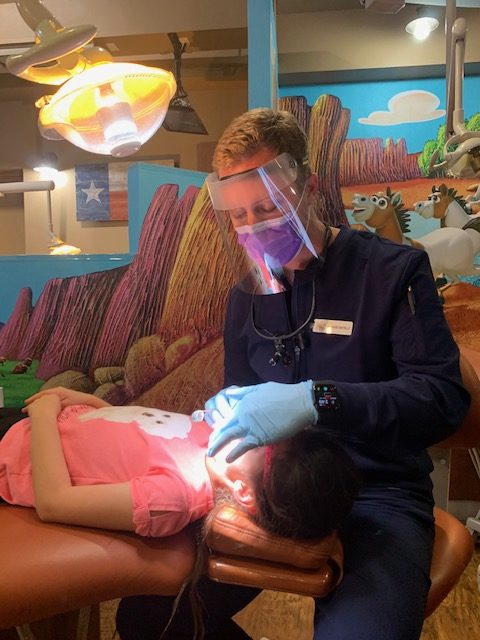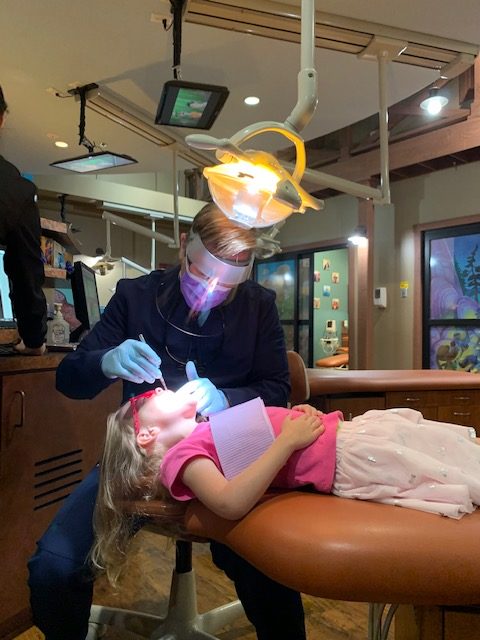 In addition to examining your child's teeth and gums, your pediatric dentist will also check for proper jaw growth and begin a relationship with your child so that he/she will feel comfortable at future dental visits and will be less likely to experience dental anxiety. Forging this relationship in a relaxed, non-threatening environment is less stressful to a child than waiting until he/she is in pain and in need of treatment to visit the dentist for the first time.
Any problems detected during this first visit can be addressed early, keeping them from progressing any further and causing any additional health problems. If the beginning stages of decay are detected in time, your dentist may be able to apply a fluoride varnish to the affected areas to reverse the process.
Additional research findings on Early Dental Visits
Research shows that children who visit the dentist by their first birthday:
Are more likely to continue with future preventive visits
Are less likely to need subsequent restorative visits or emergency dental treatments
Have an average of $300 less dental expense than those who wait until age 3 to see the dentist (figures do not include emergency and hospital visits covered in medical rather than dental costs)
Other studies have shown that almost 20% of pediatric dental emergencies are due to early childhood caries, and half of those cases involved children under 3 ½ years of age.
Researchers have been focused on this topic and the question of why the incidence of tooth decay is on the rise while dental technology has increasingly improved. The concern that preventive dentistry is not utilized or stressed as well as it should be by healthcare professionals as a whole and the need for creating a simple way to do so were 2 of the main catalysts for the 3-year study launched by the AAPD.
The development of the caries assessment tool (the predictive model for identifying caries risk) is a positive step in helping all healthcare providers work together to provide patients with a lifetime of good oral health, as well as helping parents recognize the importance of early preventive dental care.
What you need to know about making an appointment
Contact Lonestar Kid's Dentistry to schedule an appointment. We strive to be on time for all appointments, but please be aware that an emergency may occur that causes a slight delay. Children in pre-school and elementary grades are usually seen in the morning. Late afternoon appointments are reserved for middle and high school age patients. School absence forms will be provided if needed.
Your appointment is specifically reserved for your child. Please allow a 24-hour notice for cancellation so that your appointment may be made available to another patient.
What to expect during your first visit
Examine teeth for cavities.
Examine gums for infection.
Look for other mouth abnormalities.
Evaluate occlusion, the way teeth come together.
Check for sufficient room for permanent teeth.
Determine the effects of childhood habits (thumb sucking, pacifiers, bottles, etc.)
May take x-rays to locate decay, infections, position and location of teeth.
Evaluate and review brushing, flossing, fluoride and diet tips.
Developing a plan to keep your child cavity free!
Our highly trained staff understands that a visit to the dentist may be overwhelming not only for the children, but parents as well. We do our best at making patients and parents feel comfortable during every step of the process. Parents can help by being completely natural and easy going when it comes time for children's dentist appointments.
Child-Friendly Terms
At Lonestar Kid's Dentistry our goal is to make every appointment as fun and easy as we can. Nothing makes us happier than when our patients tell their parents that they are excited to come back and see us. As a parent, you are a vital part of the team to help make his/her appointment successful. To limit any anxiety that your child might have about the appointment, we want to use child-friendly terms to explain the instruments and procedures that may be involved. Here is a list of terms that we have found will allow you to explain what will happen at your child's appointment without overwhelming them.
Normal Dental Term vs Child-Friendly Term
Examination - Count teeth
Radiographs or x-rays - Pictures
Explorer or sharp instrument - Tooth counter
Suction - Mr. Thirsty or Thirsty Straw
Cavities/Decay - Sugar Bugs
Fluoride treatment - Tooth vitamins
Laughing gas/Nitrous Oxide - Magic air
Shot or use a needle - Bubble or Spray sleepy juice
Mouth prop - Tooth chair or pillow
Rubber dam - Raincoat or Tooth trampoline
Clamp - Tooth ring
Drill/Handpiece - Tooth whistler/ Tooth washer
Fillings/Restorations - Paint or polish
Pull or yank the tooth - Wiggle the tooth
A topical anesthetic - Tooth jelly
Numb - Tooth is sleeping/taking a nap
Continued dental care for children
Because children grow so quickly and changes in the mouth occur rapidly, it is important that teeth are cleaned and examined usually every six months. Good dental health depends upon good habit, including proper brushing, regular visits, and a healthy diet. Lonestar Kid's Dentistry will help determine the best oral health care routine for your child. Research has shown that if a child receives four preventative visits before the age of three years old, early childhood cavities are greatly reduced.
Tips for healthy teeth in your child
Here are some easy tips to follow in-between visits to the dentist.  Following these teeth tips will help ensure an "A+" report the next time you visit.
Ask your pediatric dentist to help you assess your child's diet.
Shop smart! Do not routinely stock your pantry with sugary or starchy snacks.
Buy "fun food" just for special times.
Limit the number of snacks; choose nutritious snacks.
Provide a balanced diet, and save foods with sugar or starch mealtimes.
Don't put your young child to bed with a bottle of milk, formula or juice.
If your child chews gum or sips soda, choose those without sugar.
Floss on a regular basis.
Have sealants applied when appropriate.
Brush effectively twice a day with fluoride toothpaste.
Be careful your child does not swallow toothpaste after brushing. Too much fluoride can cause a condition called enamel fluorosis.
Assure proper fluoride through drinking water, fluoride products or fluoride supplements.
Lonestar Kid's Dentistry believes a key ingredient in maintaining good health is parental involvement. We offer a dental home with a child-friendly, comfortable environment staffed by professional pediatric specialists.