Taking care of your teeth and gums
February is National Children's Dental Health Month (NCDHM), created by the American Dental Association (ADA), to promote healthy oral habits at an early age. The month-long campaign is designed to bring together dental professionals, healthcare providers, and educators to promote/create awareness to the benefits of good oral health to children, their parents, teachers and others in the community.
Teaching kids about good dental health
At Frisco Kid's Dentistry, prevention is our top priority! To help spread the word about the importance of good dental health, Drs. Rubin and Sentelle frequently speak to preschool, kindergarten and 1st grade children in the Frisco, McKinney, Plano and Dallas areas. Since 2005, each February they invite the "Tooth Fairy" to join them in talking to children about dental health and good nutrition. This year, because of COVID restrictions, they invited the "Tooth Fairy" and her friend, Morgann the Molar, to stop by our office and create a video teaching kids how to take care of their teeth and gums, to keep them nice and healthy!
We want to help you prevent getting "sugar bugs", which are cavities, that can sometimes make a hole in your teeth and can hurt. These cavities can be caused by sticky foods… and we don't want that!
– The Tooth Fairy and Morgann the Molar
For 2021, the ADA chose the campaign slogan for NCDHM, "Water, Nature's Drink!" We all know we should be drinking water throughout the day, and especially with every meal. But did you know, that water, especially tap water with optimal levels of fluoride, is also a safe, natural and effective way in reducing tooth decay by at least 25%? Yes, by simply drinking tap water, you can benefit from fluoridation's cavity protection!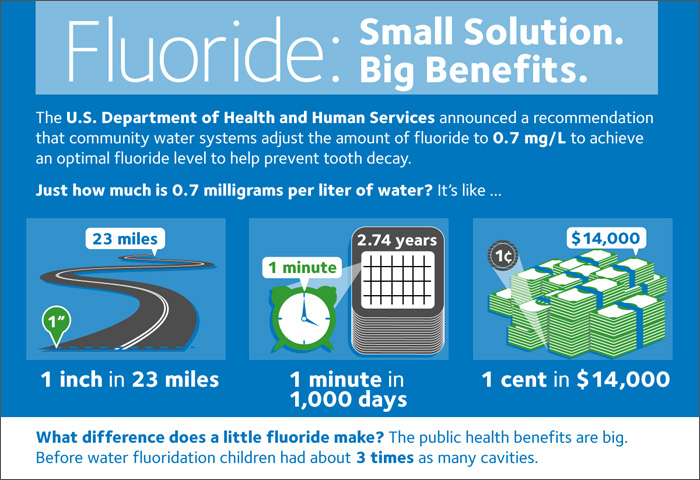 70 years of studies and the experience of tens of millions of people have affirmed that water fluoridation helps prevent cavities in both children and adults.
– Dr. Maxine Feinberg, ADA President
Common questions regarding Cavities in Children
What is tooth decay in children?
Tooth decay is the destruction of a tooth's hard outer surface, or its enamel. It happens when foods containing carbohydrates, like: milk, soda, fruit snacks, candy, cake, fruit juices, crackers, cereals, and bread, are left on the teeth. Bacteria that normally live in the mouth combine with these foods, making acids. The acids begin to eat away at the minerals on your enamel and overtime cause cavities, which are holes in the teeth. Tooth decay, if left untreated, can cause pain, infection, and even lead to tooth loss.
Why is cavity prevention so important?
Cavities and tooth decay are the #1 chronic illness in children in the US today!
About 1 of 5 (20%) children aged 5 to 11 years have at least one untreated decayed tooth.
1 of 7 (13%) adolescents aged 12 to 19 years have at least one untreated decayed tooth.
Is my child at risk for Tooth Decay?
All children have bacteria in their mouth, so it's fair to say that all children are at risk for tooth decay. However, the following may increase your child's risk factors:
Family members (older brothers, sisters, or parents) have cavities.
Have high levels of the bacteria that cause cavities.
Eat and drink a lot of sugary/starchy foods.
Water supply has limited or no fluoride in it.
Have poor oral hygiene.
Has less saliva flow than normal.
Have special health care needs.
Wear braces, orthodontics or oral appliances.
Signs/Symptoms that my child might have Tooth Decay or Cavities?
The symptoms of tooth decay and cavities vary from child to child. In general, here's some common signs/symptoms to watch for:
White spots forming on a tooth, meaning that the enamel is starting to break down.
Early cavities are spots in a light brown color.
When a cavity becomes deeper, it turns a darker shade of brown or black.
Pain in the area around the tooth.
Sensitivity to certain foods, such as sweets and hot or cold drinks.
How can I help prevent Tooth Decay and Cavities?
For babies:
Wipe gums twice a day (after first feeding and again before bed) using a soft, clean cloth.
When teeth come in, start brushing twice a day with a soft, small‑bristled toothbrush and water.
Prevent the transfer of bacteria from your mouth to your child's. Don't clean your baby's pacifier with your saliva.
If your child uses a bottle at bedtime, only put water in it. Juice or formula contain sugars that can lead to tooth decay.
Schedule your baby's first dental visit around their 1st birthday to help spot early signs of problems.
For children:
Brush their teeth twice a day with fluoride toothpaste. If your child is younger than 6, watch or help them brush until they develop good brushing skills. Use a pea-sized amount of toothpaste and always spit it out rather than swallow.
Floss your child's teeth daily after age 2.
Drink tap water that contains fluoride.
Ask Drs. Rubin or Sentelle when would be the best time to apply dental sealants to protect the back chewing surfaces from getting cavities.
If you have questions about how to care for your child's teeth, or concerns that they might have a cavity, please call (214) 618-5200 during our office hours and our team will be happy to answer questions or book an appointment.